ROEMHELD Group

Synergies in the group
Roemheld forms together with the power workholding specialists Hilma and Stark as well as the manufacturer of N/C rotary tables FTW a group of companies, which offers an extensive product range in the field of power workholding and positioning technics for production engineering.
Due to the variety of products and the resulting experience of application the ROEMHELD Group is in the position to develop and offer low-cost individual system solutions across companies.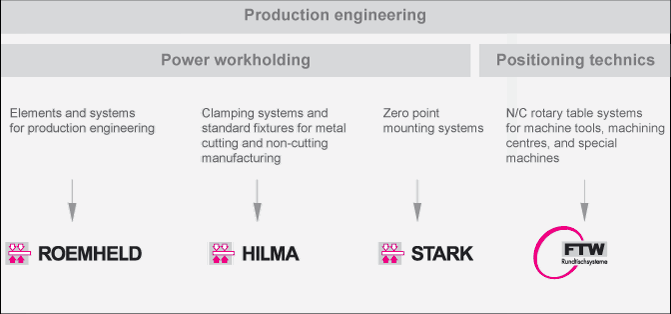 The ROEMHELD Group has its origin in the foundry FRIEDRICHSHÜTTE, which can be traced back to the year 1707.
The foundry is specialized in workpieces in small and medium lot sizes made of grey iron and cast iron. FRIEDRICHSHÜTTE is still a part of the ROEMHELD Group.





The ROEMHELD Group comprises about 580 employees with an annual turnover of approx. 90 million Euro.